Hunting Chamois and Stag in New Zealand with Gary Herbert was one of the most enjoyable mountain hunts I've had. The experience with Gary, the friendship, the true hunting in spectacular mountains is something that I'll never forget.
Fernando Siaz – Spain
---
I have been to New Zealand 4 times to hunt Waterfowl with Gary Herbert. He runs a very well organised operation and has very talented people working with him.
Shane Green – Cairns, Australia
---
My hunt in New Zealand with Gary Herbert would have to be one of the most exciting and enjoyable hunts I've ever been on. In 10 days I harvested a Gold Medal Stag, 3 Tahr, 2 Chamois, 1 Fallow and a Wild Boar. You won't find a better Professional Hunter than Gary Herbert in New Zealand.
Scot Pancost – Boulder, Colorado
---
Hunting in New Zealand is the most exciting new adventure I've found anywhere in the world. We hunted Tahr, Stag, Chamois and Waterfowl with Gary Herbert's hunting company and we all came away with great trophies. I brought 5 of my most valued clients to hunt with Gary and they were all thrilled with the quality of the hunt, guides, accommodation and the whole New Zealand experience.
Don Terral – Camden, South Carolina
---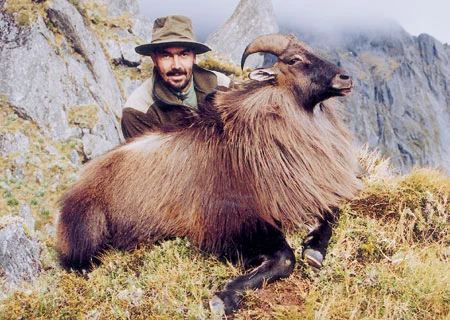 I've hunted 5 times with Gary Herbert's hunting outfit. I enjoy the challenge of hunting New Zealand because of its rugged and spectacular mountains. That's one of the reasons I keep going back. If you are looking at hunting in New Zealand, I guarantee you won't be disappointed with Gary Herbert's outfit.
Simon Camastral – Switzerland
---
My husband Bob and myself have hunted New Zealand twice with Gary Herbert. Words can not express how I felt after shooting my first Tahr. It was with out any doubt the most exciting and exhilarating hunting experience I've had.
Gay Rod – Houston, Texas
---
Our New Zealand hunt with Gary Herbert's hunting company was a "hunt of a life time". We harvested all the animals we had booked, and some. The accommodations, food and most of all, the guides were of the highest quality. A truly fantastic hunt.
Steve Fowle – California
---
I've had the opportunity to hunt with Gary Herbert and New Zealand Hunting Limited twice. On my first hunt I took a Tahr, Stag and Ram and on my second hunt another Stag, Chamois and Fallow. All my animals qualified for the SCI record book. Gary's guides are very knowledgeable and they work well as a team. On my second trip down to New Zealand, three of my friends came with me to hunt Waterfowl. They all agreed it was some of the finest bird hunting they had experienced anywhere in the world.
Dale Martin – Aurora, Colorado
---
Myself, my son, and 3 of our friends hunted New Zealand with New Zealand Mountain Hunting Limited. Gary and his guides gave us a hunting experience that we'll never forget. We hunted in 3 different areas and game was abundant in all of them. The lodges, meals and people in general were fantastic. Everyone needs to experience a New Zealand hunting adventure.
Bill Schulze – Westcliff, Colorado
---
I've hunted with Gary Herbert on 2 different Safaris, taking most of the New Zealand species. Gary knows his areas and animals exceptionally well and would have to be one of the most well organised and personable outfitters that I've hunted with.
Darryl Hastings – Rochester, Michigan
---
My wife, two sons, and I had the great pleasure of hunting New Zealand with Gary Herbert. We were so impressed with the entire experience, we've rebooked with Gary. I have hunted on four continents and have never been with an outfitter that works as hard not only to obtain good trophies, but to make the whole hunting experience as enjoyable as Gary and his guides did.
Bill Freed – Salt Lake City, Utah
---
On arriving at Gary's lodge we were all overwhelmed by the magnificent English type gardens. I was in New Zealand with my husband Dale and 3 other couples. While the guys were hunting myself and the other 3 ladies in our group went on a tour of the South Island with Gary's tour guide Janet. We went bungy jumping, jet boat riding, took a helicopter ride to the top of a Glacier, visited a sheep station where they were shearing the sheep and spent a considerable amount of time in the wine country tasting the best New Zealand wines. We stayed mainly in bed and breakfasts while touring and we saw a lot of New Zealand that the average tourist doesn't see. It was a fabulous 5 days and I recommend it to everybody.
Gail Martin – Auroa, Colorado
---
Hey Fred, just wanted to give you a holler about the hunt with Gary. It was unbelievable!!! You definitely could have not oversold it!! Both Judy and I got great Tahrs, her's was 12 3/4″ long and mine was 14″ long! Both got chamois and she killed a great 400″ plus red stag. It was the most incredible adventure either of us have ever had.
Thanks for your help and advice and you guys have the best setup in NZ if not everywhere else as well!
Tom Harwell – US
---
Fate brings us to places in our lives that sometimes is just plain eerie. I say the word "fate", extremely loosely. This can include our jobs and our careers, or possibly being in the right spot at the right time to experience a rare phenomenon in the woods to even meeting a particular person that could possibly be part of your life from now on.
Have you ever happened upon an accident where you thought to yourself "if I had been thirty seconds earlier in my travels, that would have been me"? Have you ever laid in bed contemplating not going hunting, and at the last minute arose and hit the field only to be treated to some spectacular happening. If fate had not intervened and placed you in the right place at the right time you may have missed something that would forever live in you. Is this really fate or just circumstance? Regardless of the wording, I believe things happen for a reason.
A couple of months ago I received a call from Dr. Kyle Ball of Jackson. He had been reading "Outdoors in the Sun" for quite some time and related that he really enjoyed our column. A very noble gesture indeed. After a few phone conversations and a couple e-mails we met for lunch to just talk about hunting. During our conversation he mentioned he had a guest coming to the states from New Zealand that he had hunted with for years and thought I may like to meet him. The plan was set.
Kyle invited me to his home and I met a professional hunter with extensive knowledge and hunting skills. Gary Herbert is a native from Waimate, New Zealand. Coming from a farming background, primarily dairy, Gary's desire and love for hunting took second chair because of work. Though he managed to slip away from time to time from the Holstein herd, time for the woods was hard to come by. He mentioned to his father one day that he would like to get paid for hunting. You can imagine the look of disgust from his father trying to make it in the dairy business. Regardless, at age twenty Gary left for Alaska to become a hunting guide. Starting as a packer, this became the foundation for the rest of his career. He would eventually guide hunters for moose, sheep, caribou, and Alaska brown bear. Eventually he would guide for the coveted Governor's tag in Colorado for Rocky Mountain Bighorn Sheep for five consecutive years with 100% success.
Each year he would fly back to New Zealand where he has developed a world re-known hunting operation for stag, elk, chamois, tahr and waterfowl. I have seen his client list and it is amazing how many Northsiders have experienced his guiding in New Zealand. He led quite the busy schedule guiding in North America and then guiding in his own country too. He eventually resolved to only guiding in New Zealand but his passion for hunting here has not diminished. From pursuing whitetails in Kansas to mallards in Stuttgart, this not only affords him time in the woods but also allows him time to re-connect with many of his clients on a personal basis. I always have thought if you love what you do, then it's really not work. It's amazing that he can work that hard for his clients and then still enjoy the chase himself.
It is rare when someone has a passion for something like guiding thousands of miles away from home and they make it happen. I asked him if he had any regrets concerning his travels and time spent in the field. He has none. He said the sites he has seen and the people he has met are everlasting.
Fate brought me to meet Kyle, which led to meeting Gary. I've never been to New Zealand, but I'm sure thinking about it now. Thank you, Kyle, for inviting me to your lovely home at Christmas to share your hunting experiences and for introducing me to someone that otherwise I may have never met. By the way, the banana nutbread was delicious, please tell Maury thank you.
Christmas is a special time of year. I encourage you to take a moment while in the woods and in your homes to think about the true meaning and what it brings to us and our families. Also, don't be too hard on those lab puppies that Santa brings if they happen to chew on the duck calls they find. They just want to be part of the family. MERRY CHRISTMAS EVERYONE!
Jeff North – Madison US
---
Gary,
I wanted to drop you a note now that we have all gotten home and tried our best to get back to our normal lives.
I have hunted with over 75 outfitters in North America over the last 25 years and I have yet to hunt with one as awesome as yourself. You have really set the bar extremely high. You are doing things that no one else is doing.
I can't thank you enough for the amazing time my boys had while at the lodge and your house. They can't wait to go hunting again. They have been showing their friends at school and sports amazing photos for the last week.
Everyone of your guides we hunted with were excellent and did a great job. They worked with my boys and made the experience awesome.
All the people that worked at the lodge also did great work. The food, laundry and cleanliness was at the top. Your Lodge is exceptional.
Bobbi Jo was sad to say goodbye to Millie and I know she will miss her, so that says a lot about the tour guides.
I hope that someone day I will get to bring the rest of my family to New Zealand and Hunt with you and your family again.
If you an your family every need a place to stay in the States, you are welcome at the O'Brien House any time.
Cheers
Pat, Bobbi Jo, Mitchell & Isaac OBrien
---
References
2018 2017 2016 2015 2014 2013 2012 2011 2010 2009